Composite Material Nests & Tracking Software
JETCAM's composite material nests and tracking software provides a comprehensive management system to optimize the composite materials in your manufacturing process.  It does this by providing the tools to create high yield nests,  track composite materials life and location in real time and  provide a seamless interface to your MRP/ERP system.  This implements the lean "just in time" utilization of materials that maximizes yield by  reducing waste caused by manual systems or human error.
JETCAM's dynamic high performance nesting software will provide ROI by increasing material yields.  Our nesting savings calculator will show you your savings.  We would be eager to perform a free nesting benchmark for you so you can compare your current yields to ours.
Combined with JETCAM's CrossTrack, optimal material selection is ensured taking into account the nest, age of the composite roll and number of parts to be produced while eliminating operator error in selecting materials. Full part traceability is available along with fully customized reports for your customers.
JETCAM's JOC order controller and optional interface with your ERP/MRP system enables the full management of composite materials from order placement to the final curing of the part.
Automatic Nesting modules for fabrication, composite cutting and routing
JET

CAM

Expert has always been renowned for its functionality, flexibility and sheer power when it comes to generating optimised nests. Customers can today choose between four powerful nesting modules to suit their budget and requirements.
Free Form High Performance Nesting takes advantage of today's multi-core processors to deliver highly optimised nests in a fraction of the time required previously.

The advantage of the Composite Material Nests and Tracking Software is Cost-effective, simple, with reporting.
Built using the same robust platform and design as the award-winning CrossTrack Composite Manufacturing suite, MLM Lite offers a full upgrade path in the future should you decide to expand its functionality. You can use either barcodes or RFID tags to easily track material or kits as they move around your facility.
Taking advantage of Microsoft's free SQL Server Express database platform, CrossTrack MLM Lite offers a cost-effective entry point, is easy to install, learn and use.
As all of your data is held in an industry-standard database it's easy to get relevant data out. CrossTrack MLM Lite ships with a series of standard reports, but the in-built reporting engine allows you to quickly generate data that is meaningful to your business.
Key Features
• Installation, training and live within a day
• Customizable interface to show/hide columns as needed
• Uses free Microsoft SQL Server Express database platform
• Standard reports and built-in report generator
• Upgradable to the full CrossTrack Suite
• Powerful filtering to see just the information you need
• Custom data fields for materials and kits

•  See all stock with real-time countdown of remaining life
•  Simple barcode scanning interface
•  Quickly add entire batches of delivered material
•  Touch screen friendly design
•  Define unlimited material types
•  Support for both barcodes and RFID tags
•  Real Time Data enables actionable decisions
Rectangular Automatic Nesting and High Performance Rectangular Automatic Nesting
Expert Premium users can gain a cost-effective entry into multi-part nesting with RAN (Rectangular Automatic Nesting). Combined with the JETCAM Expert CADCAM software's built in auto nesting module it allows users the ability to easily build (local or externally) a works list of required components that can be immediately processed, with NC code being produced within seconds for multiple nest layouts. RAN users also benefit from a high-performance version – HP-RAN, which allows a runtime to be specified – this can significantly reduce material waste.
Free Form Automatic Nesting
At a slightly higher cost FFAN (free form automatic nesting) delivers a fast, effective free form automatic nesting algorithm, offering affordable yet very powerful free-form nesting capabilities. It represents broadly the current nesting technology, as available from other vendors of nesting software. This gives your business the ability to tackle complex nests with ease, automatically nesting components within components and making substantial savings over less automatic nesting methods. FFAN is suited to businesses looking to take their nesting capabilities to another level at low cost, while maintaining an open upgrade path to JETCAM's latest and significantly more powerful automatic nesting technology – FFHPN.
CADCAM Automation through materials and order management
The auto-nesting module for JETCAM Expert on its own provides a powerful materials and order management system. Couple it with products such as JETCAM Orders Controller for creation and management of complete assemblies, or integrate it with your existing MRP system and you have a fully automated order management system.
This can be taken further still using JETCAM's Remote Control Processing (RCP) module, which completely automates the generation of optimised nests and NC code – the existing MRP system can automatically populate JETCAM's materials and orders databases, with RCP automatically applying tooling, nesting the correct components per machine and material type, creating a highly optimised nest (both in terms of material utilisation and cutting path optimisation) and generating NC code that is then placed in the desired location, ready for the operator to download to the machine's control.
JETCAM's auto nesting module, an option for all Expert Premium systems, can be easily integrated into virtually any existing Production Control software. It controls JETCAM Expert's ability to control parts (orders) and materials used within the system's automatic nesting modules – rectangular automatic nesting, free form and high performance nesting modules.
Some MRP software, such as 123insight have built in integration directly within their product to automatically populate JETCAM's materials and orders databases when orders are placed that use a JETCAM allocated resource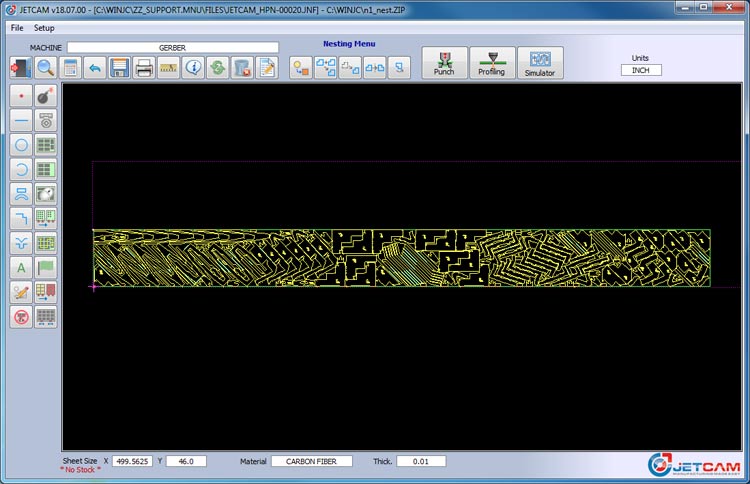 Generating NC code for multiple machines simultaneously
The fives ways of importing material stock
Material Transfer Station
Overview of the kits screen
Automatic CSV CAD import – description
Ordering plies/assemblies for nesting:
Static versus Just In Time nesting
CSV import of assemblies for nesting in the orders screen