All major aerospace suppliers and OEM expect that "green aerospace" initiatives will gain in importance and need to accelerate in the years to come. In addition to new propulsion technologies, it's in particular lightweight construction that will play a major role as new aerospace programs are defined in the decade to come.  The traditional method of manufacturing aerospace structures by hand continues to create a bottleneck to throughput and yield.  Cevotec's innovative fiber patch placement technology enables the automation of these processes and also now incorporates the "patching" on complex structures that have core as part of the design. 
CompositesWorld
puplished an article on this manufacturing innovation. 
Automation is key to a widespread use of high-performance composites in next generation aerostructures, in particular when higher volumes are needed for e.g. single-aisle medium-range aircrafts. As of today, multi-material composite structures like fairings, radomes, nacelles, control surfaces still require a lot of manual worksteps in fabrication. Fiber Patch Placement (FPP) technology has the potential to change this. It offers a new combination of productivity, flexibility and costs and enables automation for complex 3D shapes, multi-material composites and locally load-adjusted fiber designs. This results in a remarkably improved buy-to-fly ratio. It's the technology for the next generation of composites aerostructures.

Digitized, automated process chain

Multi-material lay-up capabilities
(carbon, glass, adhesives, etc.)

20% – 60% cost saving compared
to manual lay-up

100% raw material control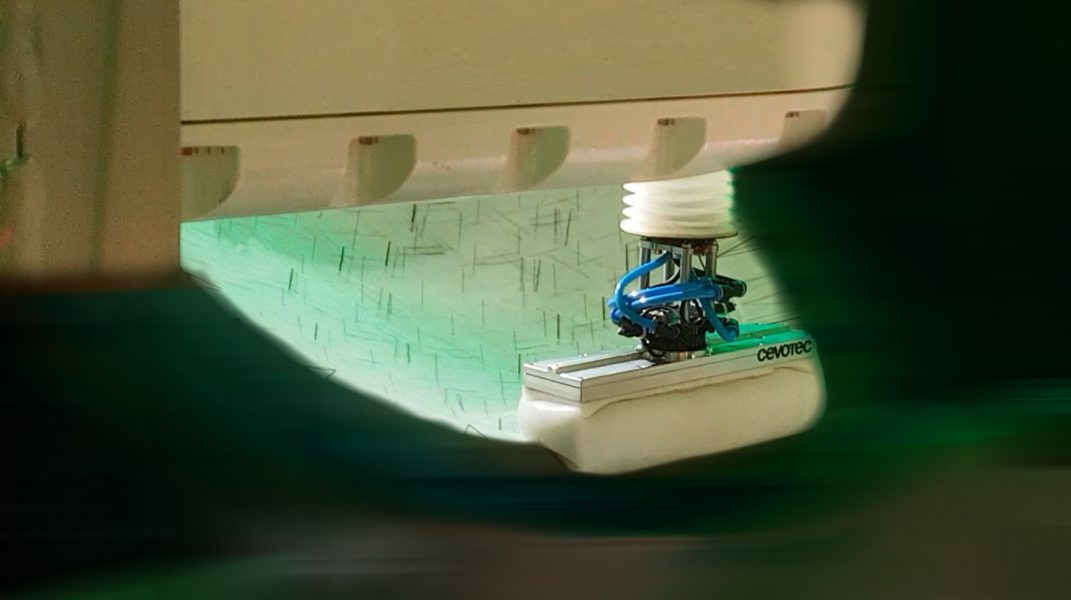 Integrated lay-up of monolithic areas …
… and sandwich structures in a SAMBA FPP production system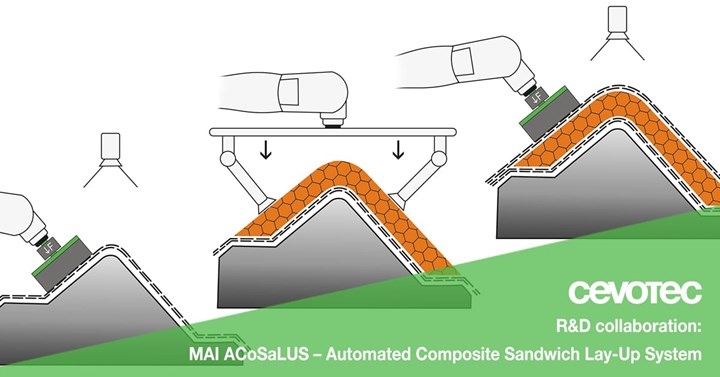 Automation specialist Cevotec focuses on the efficient and automated production of complex aerospace composite parts. Based on Fiber Patch Placement (FPP) technology, Cevotec's SAMBA lay-up systems work with a broad range of material systems, both prepreg and dry-fiber, enabling manufacturers to automate the lay-up of multi-material aerostructures. The flexible process also allows for the combination of sandwich-core-based structures and monolithic areas in one integrated process. To safeguard high quality standards for every part produced, the production systems feature self-corrective control systems for material conditions and positioning accuracy. Application examples include e.g. fairings, nacelle panels, radomes, control surfaces, and more.
ARTIST STUDIO is the dedicated software suite for Fiber Patch Placement technology. It enables a full digital thread and supports engineers in the creation of patch laminates through technology-specific lay-up features. The integrated CAM module programs the SAMBA system robots fully automated.

Includes manufacturability assessment, unit cost and time analysis, benefits and ROI estimation. This service is complimentary for you.
>> How much does your application benefit from FPP?
Includes virtual studies, application and demonstrator development, equipment customization, and more.
>> How do you best develop & test your FPP application?
Includes SAMBA lay-up systems, ARTIST STUDIO software, customized patch grippers, quality control systems, and more.
>> Which system configuration is best for your application?
Cevotec operates an FPP Competence Center near Munich for developing automated lay-up processes for composite structures with sizes of up to 2 m x 3 m. Composite producers are invited to get in touch and learn how FPP can save 20% – 60% in production cost & time when switching to FPP. Schedule your personal consultation to discuss those applications that are relevant to you. Learn about available project set-ups to develop demonstrator parts. We offer a suitability and unit-cost analysis upfront at no cost. Take the opportunity to explore new options for your future composites production!