Hydrogen-powered electric vehicles are on the rise. Electrification of powertrains, along with limitations in battery technology, give rise to hydrogen-powered, fuel cell electric vehicles (FCEV). However, one of the challenges for FCEV is to efficiently and safely store hydrogen (H2) in the vehicle.
Hydrogen for FCEV is typically stored in type IV composite pressure vessels. The high operating pressure requires a significant amount of carbon fiber for the vessel. With up to 700 bar nominal pressure, one tank consumes up to 10 kg of carbon fiber for every 1 kg of hydrogen stored. With a typical tank size of 4-6 kg of hydrogen for passenger cars, a tank weights up to 40-60 kg. For larger tanks, the material economics only improve slightly.  See the article in CompositesWorld on this new technology. 
Cevotec has developed a solution for this challenge.
Reinforcing a tank's dome area with Fiber Patch Placement (FPP) yields 15% in material, weight and cost savings – and shortens total manufacturing time by 20%. By using FPP dome reinforcements, manufacturers need less material in the subsequent filament winding process, which continues to be the key production process for those tanks.
Cevotec's solution is to apply carbon fiber patches in the dome areas, and thereby replace the high-angle helical layers (HAHL) in a typical filament winding pattern. As the patches cover exactly the dome area and – unlike typical HAHL layers – do not span across the cylindrical part of the vessel, material and weight of the tank is reduced, as well as the manufacturing time needed on the filament winding line.
Because of the significant portion of carbon fibers in the total vessel cost, the achievable material reductions present a very positive business case for manufacturers. Typically, the necessary upfront investment is fully amortized already in the first year of series production.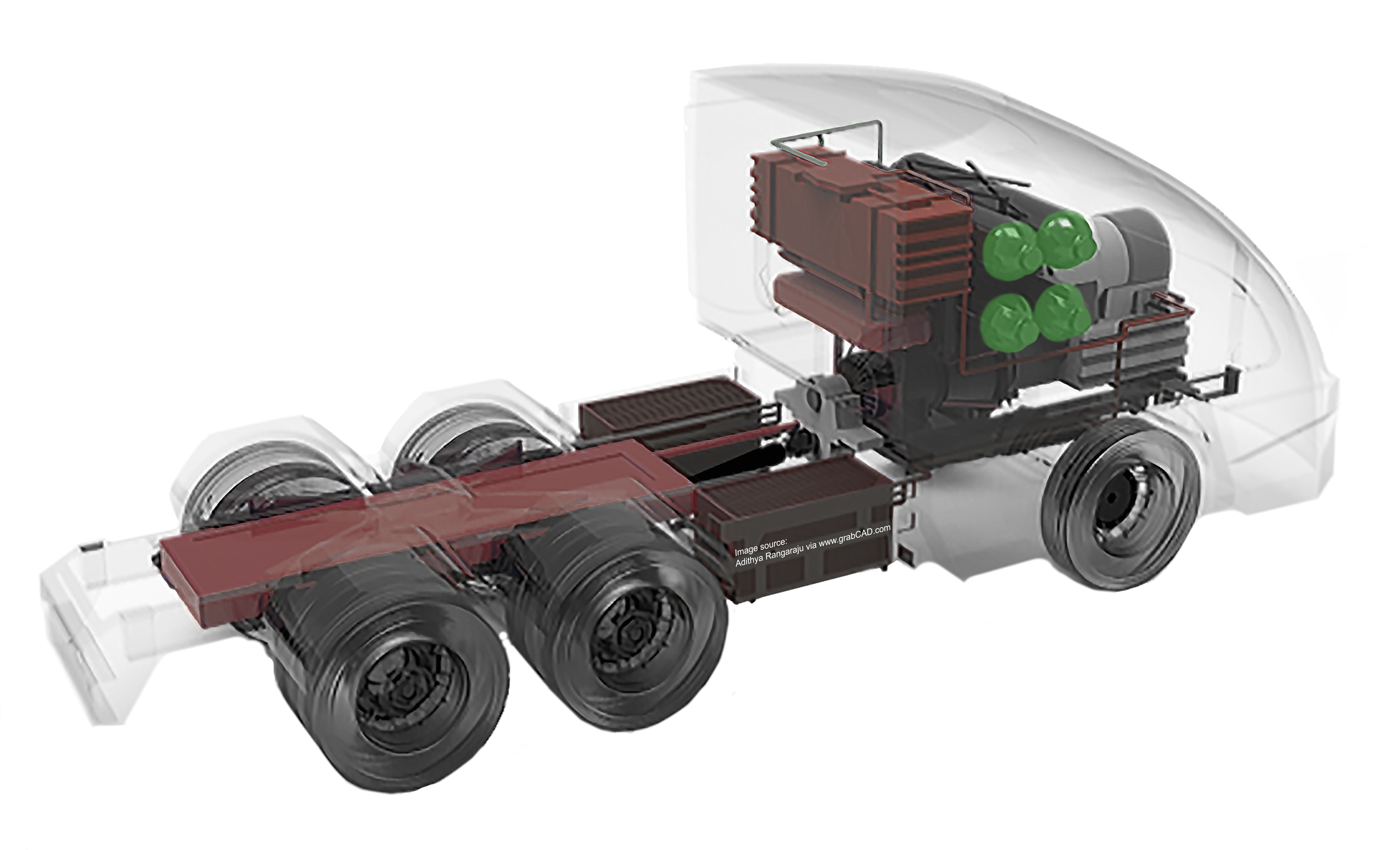 15% lower weight & cost

20% shorter production time

<12 months payback time
In a first step, Cevotec's SAMBA FPP systems place the reinforcing fiber patches at the dome area directly on the liner. Then the patched liners are passed over to the filament winding process, which subsequently uses less material and production time for wrapping the material around the vessel
Liner + reinforcement patches
Plastic liners are reinforced with Cevotec's SAMBA production system – directly on the liner, fully automated, quality controlled
One SAMBA production system can supply several filament winding stations
Reinforced liner + filament winding
The reinforced liner is transferred to the filament winding process
The winding process is adjusted to use less material in the dome areas, therefore saving material and production time
Aditionally, your capacity for tanks increases, improving your ROI and production economics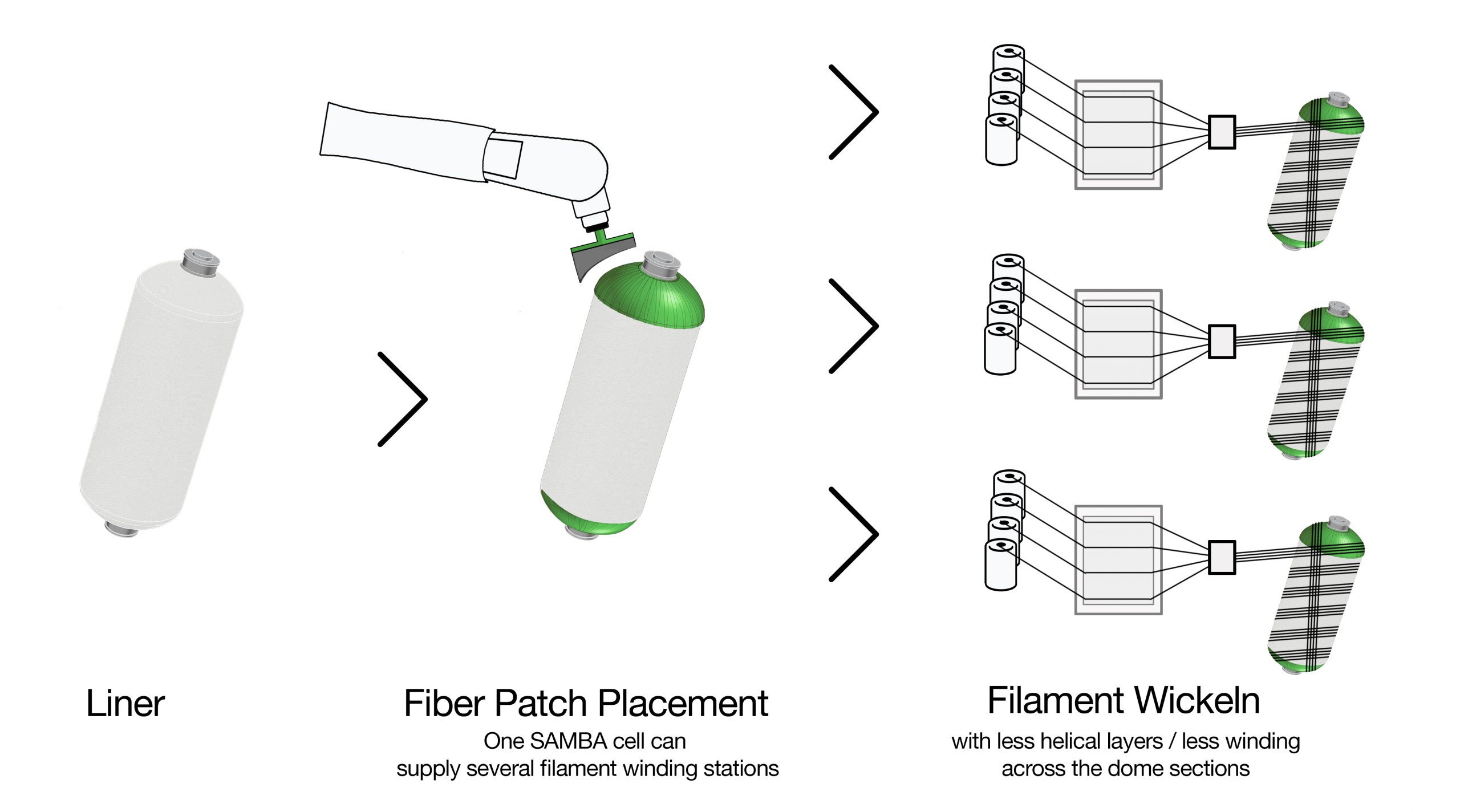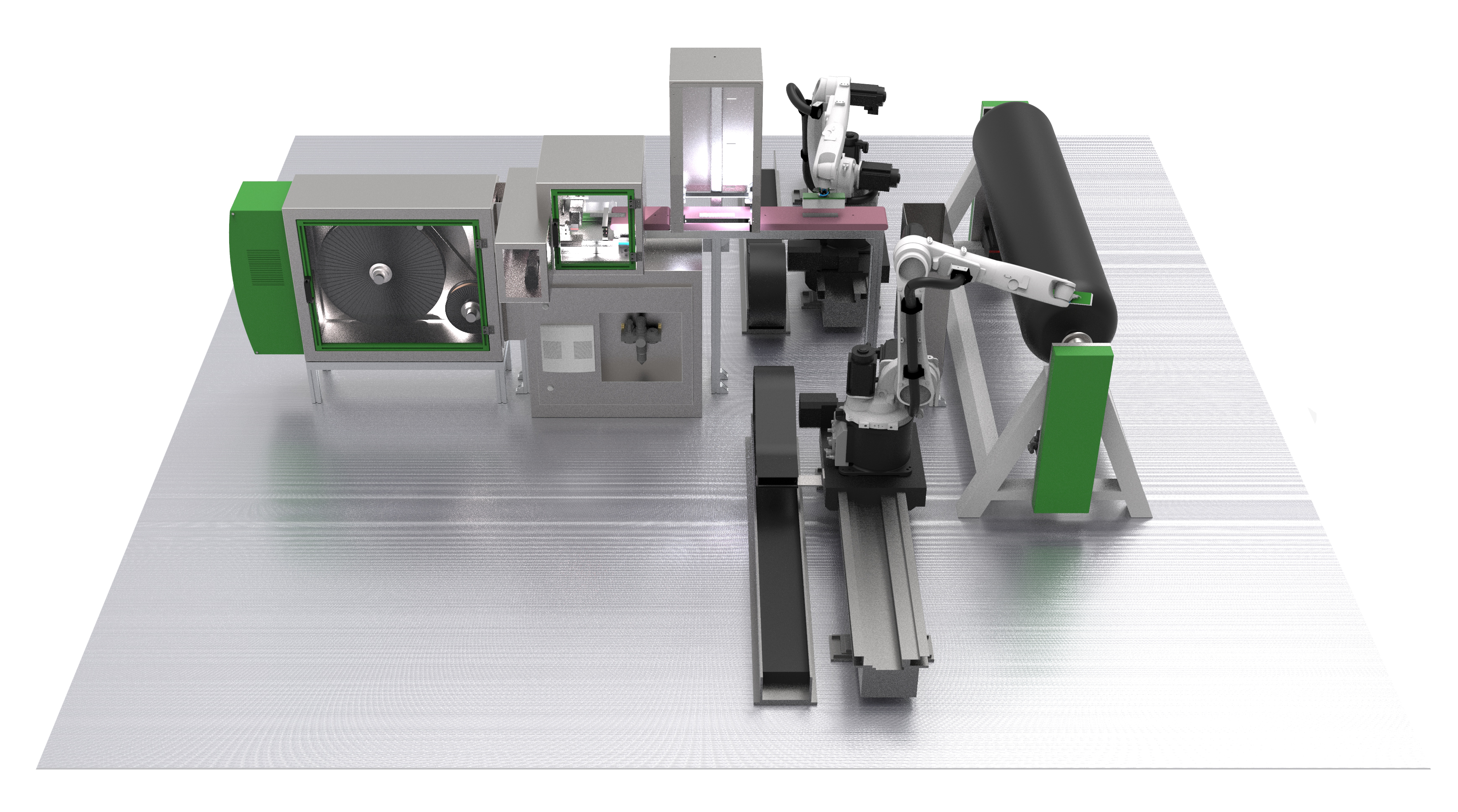 Cevotec has conceptualized an FPP production system adjusted to the specific requirements of reinforcing composite tanks. Its flexible set-up fits a broad variety of tank sizes, and two robots apply patches simultaneously to both dome areas of a tank liner.
12 robot axis, 2 additional x-axis for length variation
Sensor-controlled manufacturing process
Compatible with a variety of fiber materials
Flexible, automated offline programming with ARTIST STUDIO software
Manufacturing trials & demo on Cevotec lab system available
ARTIST STUDIO is the dedicated software suite for Fiber Patch Placement technology. It enables a full digital thread and supports engineers in the creation of patch laminates through technology-specific lay-up features. The integrated CAM module programs the SAMBA system robots fully automated, based on the designed laminate and a digital twin of the production system.

Includes manufacturability assessment, unit cost and time analysis, benefits and ROI estimation. This service is complimentary for you.
>> How much does your application benefit from FPP?
Includes virtual studies, application and demonstrator development, equipment customization, and more.
>> How do you best develop & test your FPP application?
Includes SAMBA lay-up systems, ARTIST STUDIO software, customized patch grippers, quality control systems, and more.
>> Which system configuration is best for your application?
Cevotec operates an FPP Competence Center near Munich for developing automated lay-up processes for composite structures. We offer laminate and prototype developing services, as well as the production of prototypes and demonstrators. This enables manufacturers to trial and validate their application in a risk-free project setting.